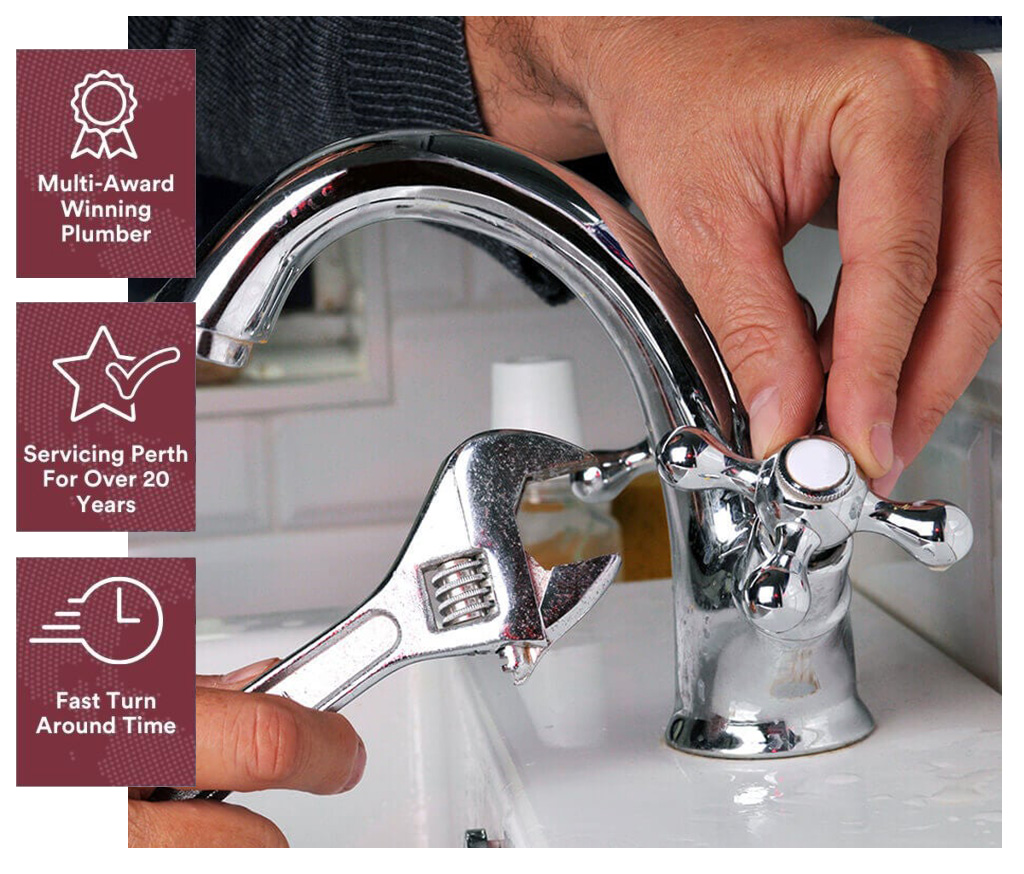 Get Your
Leaky Taps

Fixed Today!
Everyone dreads the sound of a leaky tap, not to mention the amount of wasted water. The water wasted through dripping taps can amount to 800 litres per month. That amount of water is multiplied by every house in Perth, which leads to a massive amount of water.
In addition to wasting water, a leaky tap is just plain annoying for you and your family. Every tap has moving parts, which can wear out over time. Leaky taps will inevitably occur; the question is whether you are prepared to fix the problem.
Do you know that leaky taps can indicate other plumbing issues that result in significant water damage to your home?
Signs You Need Tap Repairs
Why choose
Rowson's Plumbing Services

For Tap Repairs
If your taps are leaking, it's not just an inconvenience. It can be a sign of bigger problems in the plumbing system that need to be addressed. At Rowson's Plumbing Services, we offer fast and professional service for all types of tap repairs in the Perth CBD and metropolitan areas. We also advise on how to prevent future issues with your taps, so they last longer. Our team is experienced at identifying and fixing all sorts of problems with taps, from simple leaks to major renovations.
You don't want to wait until there's a big problem before calling us! Call our friendly plumbers today for any type of tap repair or renovation work you may need done in the Perth CBD or metropolitan areas. We do everything from replacing washers on leaking taps to major bathroom and kitchen renovations! And if you ever get stuck when trying to fix something yourself, give us a call — we can help walk you through the process over the phone, so you don't make things worse!
The cost of tap repairs will differ with each repair job. Most experienced plumbers will have to consider the type of tap, the type and location of the property, the complexity of the problem, and the other underlying conditions and plumbing issues that may have caused the tap to malfunction in the first place. More often than not, sediments that ruin the components of the tap come from unserviced or malfunctioning
hot water
systems. For better estimates and understanding of your plumbing system, it is best to contact our skilled plumbers at Rowson's Plumbing Services right away.
We advise you not to attempt to DIY any plumbing repairs. Leave the tap issues to the tap experts. You may think it's easy to change a tap washer, but is it really just a washer issue? A DIY plumbing job may cost you more time and money just trying to diagnose the issue and end up buying a tap replacement and ruining the pipe itself. Qualified plumbers have years of experience and would recognize the cause of the issue and fix your tap quickly.
The best time to call a professional plumber is when you notice the problem with the tap. It may not be a plumbing
emergency
, but the sooner you get in touch with a licensed plumber, the sooner you can set an appointment and avoid any unwanted increase in your water bills.