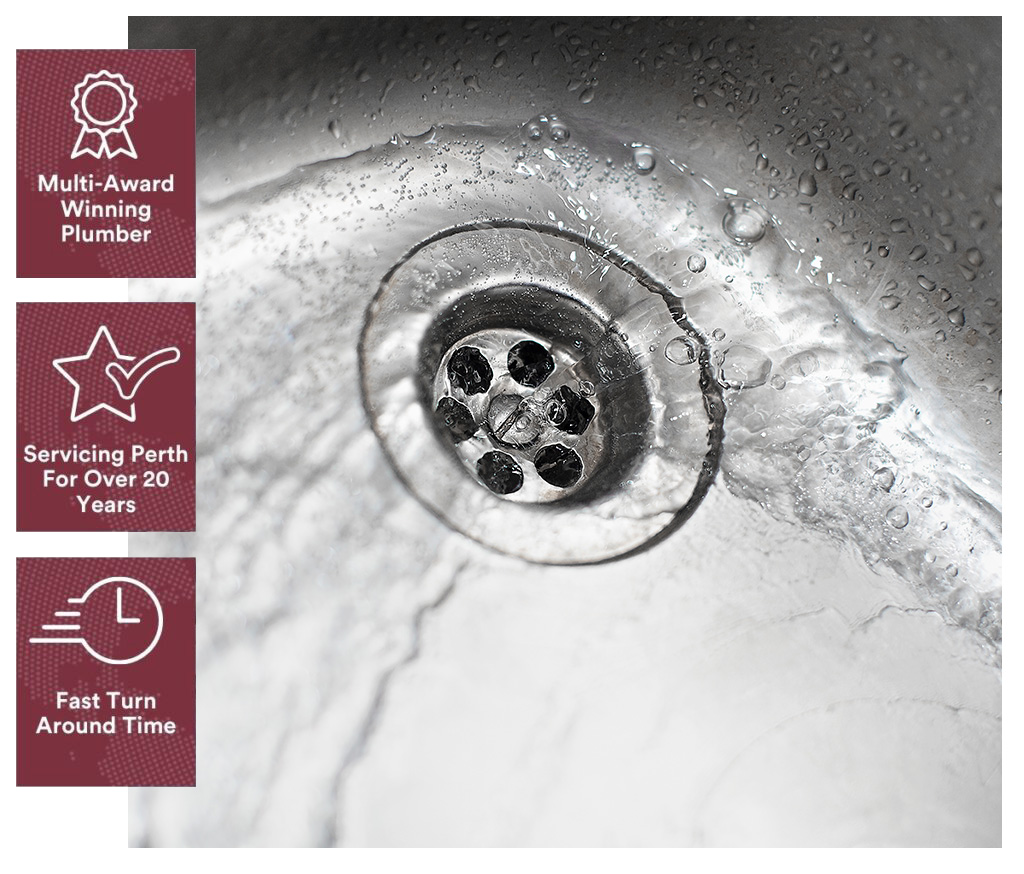 Fast, Effective Sink Clearing from
Experienced Professionals
A blocked sink drain is a common plumbing problem, for any home or commercial property, and it can happen at any time.
Rowson's Plumbing Services has been helping Perth residents with blocked sink drains for over two decades. We know how to fix your blocked drain quickly and effectively.
At
Rowson
's Plumbing Services, we use the latest technology in our equipment to unblock your blockage fast. Our plumbers are fully trained on all of the most up-to-date techniques that will help you get back to normal as soon as possible, including
CCTV
camera inspection of your drainage system if necessary!
What Causes a Blocked Sink?
Why Choose
Rowsons Plumbing Services

To Fix Blocked Sinks?
We're Rowson's Plumbing Services, and we offer our best in clearing blocked sinks. Our team of professional plumbers are equipped with advanced tools, knowledge and experience with all types of plumbing problems, including blocked drains, burst pipes, gas leaks and more! We know how frustrating it is when a sink gets clogged up. That's why our goal is to get things back to normal as quickly as possible for you.
Whether you have a slow draining sink or an
overflowing
toilet that won't stop running, no matter what time of day or night it happens,whether residential home or commercial property, Rowson's Plumbing Services will be there fast to fix the problem for you! When you call us, one of our friendly staff members will answer any questions that you may have about your plumbing issues before sending out one of our expert technicians right away! You don't even need to leave home because we come directly to your door at no extra cost!
Call now on
08 9540 0788
for assistance from Rowson's Plumbing Services, dedicated professionals who provide quality service every time they visit their customer's homes.
FAQ's About
Blocked Sinks
The cost of a plumber is determined by the task, the location, the duration and intensity of the task, the equipment required, and the company. If the drain pipes have already been damaged or rusted, you may need to replace the damaged or rusted parts with new ones. In order to have a proper assessment and inspection, it is best to contact a professional plumber such as Rowson's Plumbing services.
There are times when a professional plumber is called out to a simple drain clearing job and discovers additional hazards and issues. You can choose to have the plumber fix the problems that have been discovered, or you can choose to schedule a more convenient time for them.
Your sink is draining at a snail's pace.
If the water in your sink is draining extremely slowly, this is a telltale sign that you may have a clog in your sink. If this is the case, the clog is most likely to be found within the fixture. Despite the fact that you may be tempted to put off addressing the problem, it is critical that you take some action right away to avoid further damage to your pipes and other fixtures. Even seemingly insignificant clogs can cause severe complications and even damage to your entire system if not addressed immediately.
If the clog is particularly severe, the sink may be rendered completely inoperable. There are a variety of things that can cause your sink to clog that are completely unexpected. Whether it's hair, toothpaste, and soap in the bathroom sinks or grease and food in the kitchen sinks, we really do have to be careful with just about everything that we flush down our toilets to avoid clogs.
Disturbing smells
Do you notice any strange or unpleasant odours emanating from your drain or toilet? It is important to note that foul smells frequently appear before any other telltale signs, so they should not be ignored.
Your drain is making strange noises.
In the event that you hear gurgling sounds coming from the drains or from your pipes, it is very likely that your sink is clogged.
Boiling Water
It's possible to unclog your sink in a hurry by pouring a glass or two of piping hot water down it, which will melt any grease or oil that may have gotten stuck in the pipes. In addition to being a quick fix, this strategy can also be used as a preventative measure. You only have to do it once a week to be effective.
The baking soda method
In the case of clogged drains, this method is a natural alternative to the use of chemical drain cleaners. Baking soda and vinegar are also normal household products that you probably already have on hand in your kitchen, which makes it even more convenient for you. In order to allow the mixture to do its magic, follow these steps:
Funnel one cup of baking soda down the drain, followed by one cup of white vinegar.
Seal the drain opening with a stopper or cover.
Allow the mixture to rest for 15 minutes.
Remove the cover and flush the drain with hot tap water.
To break up more stubborn clogs, use boiling water.
To avoid grime and hair clump buildup, use this method once a month.
Drain stoppers should be cleaned on a regular basis.
You may be noticing a significant buildup of drain hair in your bathroom sink and shower, which you should investigate further. You should be if you are because it is a signal that it is necessary to clean the drain stopper. It would be best if you also cleaned your drain stoppers on a regular basis (1-2 times per week) to prevent the accumulation of hair, soap, and other gunk at the bottom of your sink.
Use drain screens.
Drain screens should be used on all of your drains, if possible. Using these items, you can help prevent food, hair, soap scum, and other grime from trying to enter your drain in the first place. They are designed to fit over drain openings. Drain screens are available at most hardware and bath supply stores.
The obvious signs of when you should call a plumber are:
If you tried the plunger and it didn't work, call a licensed plumber.
If there's more than one clogged drain, call a qualified plumber.
If you don't know what you're doing, call a plumber.
If there is a hint of a sewer smell, call a plumber.
If water starts to leak from below the sink, call a plumber.
If you or your man tried to DIY and now you are up to your ankles in water and in a whole lot of mess, call a plumber.
When you first notice signs of a clogged sink, it is best to call a plumber. You may have taken preventive measures such as the baking soda method or hot water treatment, but it is never the user's responsibility to determine the cause of the blockage. A plumber will investigate the cause, repair the problem, advise you on how to avoid future problems, and inspect your plumbing system for common plumbing issues as a precaution.
It may seem like a good idea to try the coat hanger trick or industrial drain cleaner products, but you may be exacerbating the problem if you don't know what's causing the blockage. For plumbing problems, it is best to contact a plumber.