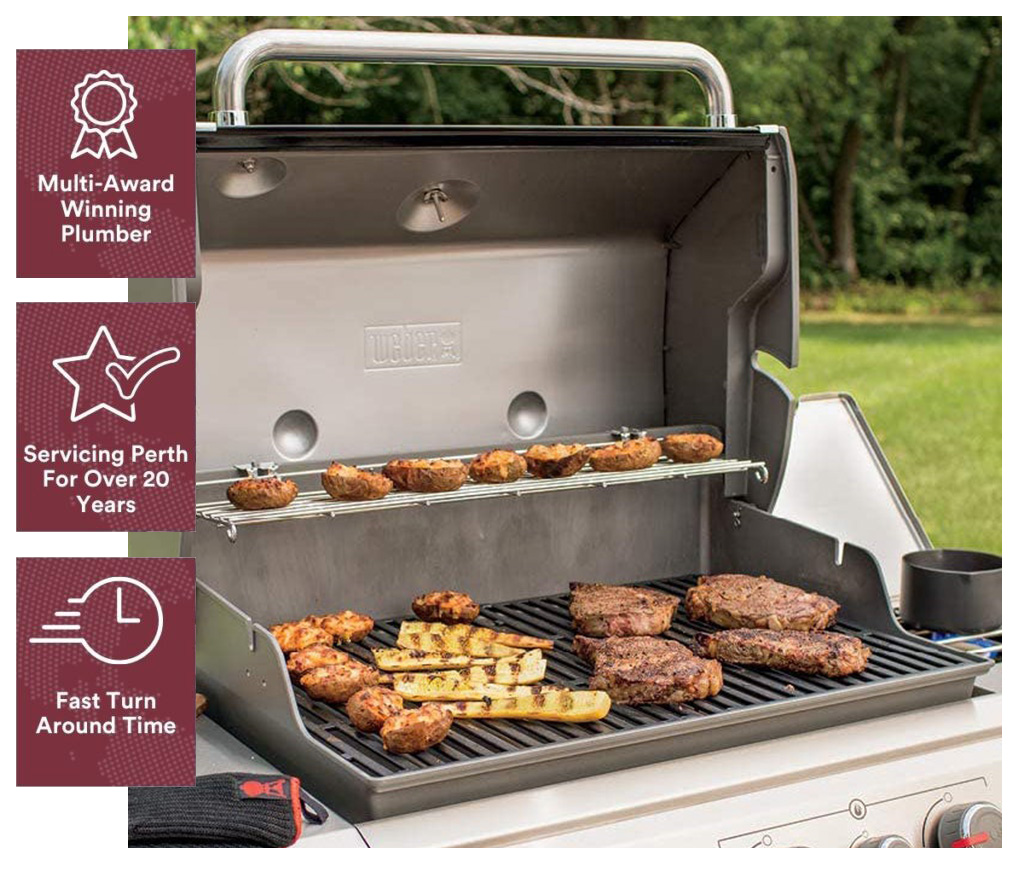 Get A
Gas BBQ Installed

Today With Rowson's
If you want to cook outside, you need to have gas plumbing installed for the outdoor barbecue.
Rowson's Plumbing Services/gas plumbing installation for outdoor BBQ has been in business since 1998, and we are proud to be one of Perth's most trusted plumbing companies. Our team has over 20 years of experience in commercial plumbing, residential plumbing, and gas piping, so you can rest assured that we will get the job done right at a reasonable price!
You don't have to worry about safety or cost when working with our team because we've got all the bases covered. Whether you're looking for an
emergency plumber
or someone who offers regular maintenance services, we've got what it takes to keep things running smoothly at home or at work!
Advantages of outdoor gas bbq
Why choose
Rowson's Plumbing services

for Gas plumbing installation for outdoor bbq?
Rowson's Plumbing Services is the best choice for gas plumbing installation and repairs. Our team of expert gas fitters is trained to provide quality service every time. We ensure our testing equipment is calibrated regularly to ensure that our gas plumbers can pick up any leaks. All of our expert gas fitters follow safety procedures precisely, turning off the gas to repair and install.
Rowson's Plumbing Services has been proudly Western Australian owned and operated since 1998, so we know what it takes to be the best at what we do! Call us today at (08) 9540 0788.
You won't find another company like ours in
Perth
! We're experts in all things related to commercial and industrial plumbing services, including gas repairs and fittings. When you choose
Rowson
's Plumbing Service as your preferred provider, you'll get peace of mind knowing that your job will be done right with no mistakes or accidents along the way!
FAQs about
Gas plumbing installation for outdoor BBQ
There isn't a fixed price when it comes to gas line installation. There are a few factors that affect gas appliance installation. A licensed gas fitter and gas plumber will have to consider the location, the condition of the existing gas lines, and the type of barbecue grill before coming up with the actual project cost. It's a good idea to contact Rowson's Plumbing Services for a better cost survey for your gas installation.
Just like any outdoor gas appliance, a bad barbecue grill installation could end in disaster. Outdoor cooking may seem like a pleasurable activity, but there is a lot of hard work to keep it safe and void of cold spots.
Apart from the safety ensured by licensed gas fitters in installing the barbecue grill, the gas plumber will advise on the safest outdoor space to place your grill, far enough from your house and outdoor fixtures so they won't catch fire.
You may like grilling steaks and patties yourself in your outdoor kitchen, but installing the outdoor gas grill yourself is not a good idea. Gas is a dangerous substance to be handled by an untrained individual. Gas is odourless and colourless, yet highly flammable and poisonous. If done incorrectly, your powerful burners may not be getting the gas they're supposed to and leak gas into the atmosphere even when the control knobs are in the off position and the grill is not in use. It's best to leave any gas-related job to a licensed gas fitter or qualified plumber from Rowson's Plumbing Services.
Yes. Although you may be strong enough to lift and move your 4-burner gas grill, the gas plumber would help with the gas reconnection and gas compliance certificate. Be it a natural gas grill or a 5-burner propane gas grill with a gas tank, if you need a gas appliance moved, you need a qualified plumber to reconnect the appliance to the gas line.
A gas compliance certificate certifies that the gas was installed or serviced by a certified plumber or a licensed gas fitter and that the installation is safe and to QLD standards.
Only certified gas fitters can issue gas compliance certificates. A certificate will be supplied upon the accomplishment of any gas installation, repair, or extension. Certificates are usually granted within 30 days of confirmation.
For new gas installations or gas fittings, a gas compliance certificate is required.
The very first gas line is connected to your building.
Your building's gas supply is being restored.
Setting up a new gas line, such as a gas hot water line or a gas bayonet for an outdoor grill.
Installation of a gas appliance (hot water, oven, cooktop, fireplace, oven).
You're swapping out a gas appliance.