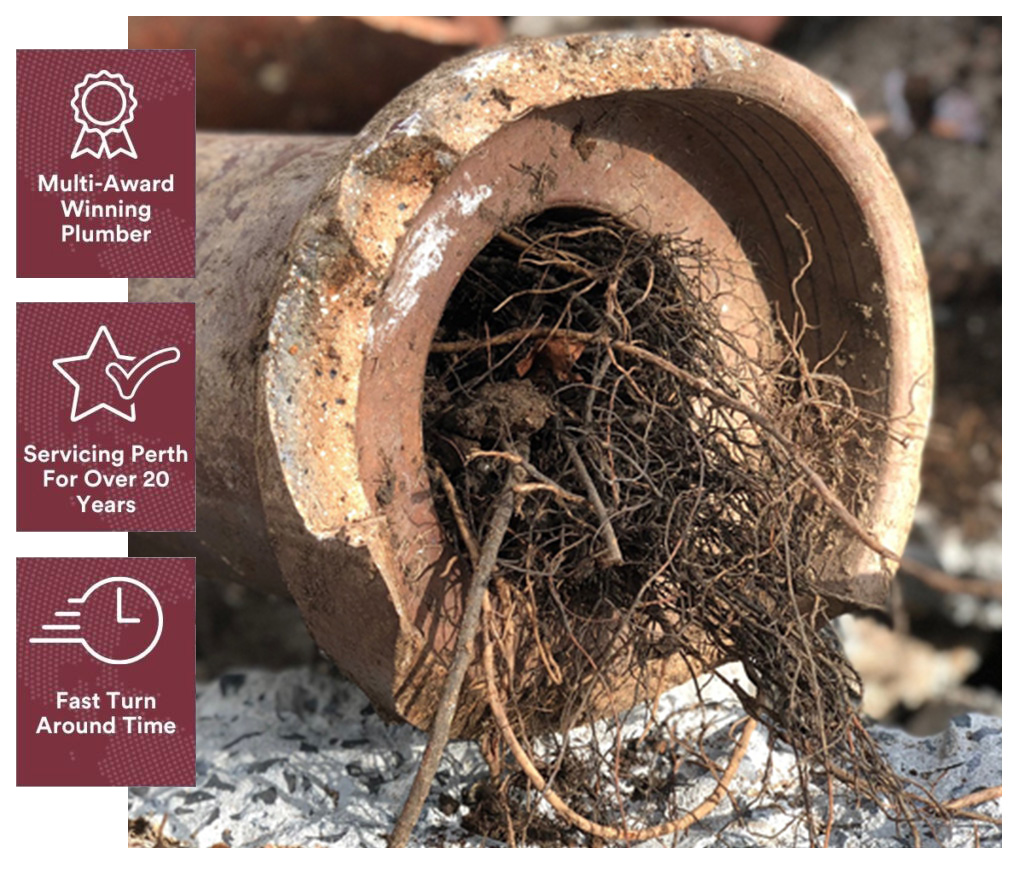 Tree Root In Pipe

: Get rid of it fast!
It can be frustrating to deal with when you have a blocked drain caused by tree roots in the pipes. You don't want to try and fix this problem yourself because it will take too much time and effort.
At Rowson's Plumbing Services, we know how important your plumbing system is to your home or business. That's why our team of licensed plumbers is available 24/7! We offer
emergency
services whenever you need us most—even if it's at 2 AM!
Our plumbers will arrive at your home or commercial property within 45 minutes after receiving an emergency call from you. This means that no matter when your plumbing problems occur, there is always someone ready to help out!
What are the effects of tree roots in the pipes?
Why Choose
Rowson's Plumbing Services

For Removing Tree Roots in Pipes
Rowson's Plumbing Services is the best choice for your plumbing needs. We are committed to providing exceptional service and quality workmanship at competitive rates. Our goal is to provide our customers with the highest level of satisfaction possible. We offer 24/7 emergency services, so don't hesitate to call us if you have an issue that requires immediate attention!
When it comes down to it, we know that our customers want their problems fixed quickly and efficiently without having to worry about hidden costs or poor workmanship.
That's why we make sure all of our technicians are thoroughly trained in order to ensure they can handle any job, no matter how big or small, at home or commercial property. Whether you need your drains unblocked or require new plumbing installation, we will get the job done right every time!
FAQs about
tree roots in pipes
Sinks and showers have slow emptying drains.
Roots will continue to grow and spread once they have contact with water from your broken pipes. While the roots may be unseen at first, they can cause major blockages and even damage to the pipes. Drains that are slow to drain are usually blocked.
Your drain makes gurgling noises.
When you flush the toilet, run water, or empty a sink, a sinister gurgling sound from nearby drains is often heard. This is the sound of water attempting to pass through whatever is blocking your drain.
Your toilet regularly backs up.
A backed-up toilet is another sign of a blocked drain. Tree roots in pipes can quickly block a toilet drain by catching toilet paper and other debris.
A foul smell is coming from your drain.
If tree roots block your sewer line, a foul odour will eventually emanate from your drains. As more waste accumulates at the tree root blockage, the odor will worsen.
There are very green patches of grass on your lawn, or your tree is growing unexpectedly rapidly.
You may have tree root blockage if you don't even have a green thumb and your trees or grass are abnormally green. Your pipes' plants will appreciate the continuous supply of water and nutrients.
In contrast to the previous signs of roots in your drain lines, this one indicates aggressive root growth in your pipes. If you have any of the above symptoms, as well as an unusually green garden, tree roots are most likely growing in your underground pipelines.
Tree roots come in a variety of shapes and sizes, and they have the proclivity to infiltrate various types of underground pipes. As a result, it is safe to assume that the cost of plumbing repairs will always differ from one another. There will never be a standard cost for repairing tree root invasions. Before providing an accurate estimate, the licensed plumber must consider the severity of the underground pipe damage, the type of property, the pipe depth, the need for additional equipment, and the length of the affected pipes. To get a more accurate estimate, contact Rowson's Plumbing Services and request an inspection.
Tree root invasion is not something that inexperienced individuals should attempt. Excavation is required in the process of removing invasive tree roots from four pipes, which should never be attempted on your own. A do-it-yourself plumbing job would only result in a costly plumbing nightmare. It is in your best interests and the best interests of your neighbours to hire a licensed plumber for the tree roots in the pipes job.
When you notice a problem, the best time to call a licensed plumber is right away. All plumbers agree that a blocked drain pipe is the best indicator. You may not be aware of the causes of blocked drains, and one of those causes could be tree roots in the drain pipes. But how would you know where to look?
Rowson's Plumbing Service would arrive with cutting-edge technology to determine where the roots begin and end. They will have your blocked drains fixed in no time, thanks to their experience, skills, and drain clearing equipment.
A standard home insurance policy covers unexpected and unintentional repairs. Damaged pipes due to tree root intrusion, on the other hand, are neither. The sewer line damage they cause is unlikely to be covered by the pipe repair for damage from tree root infiltration.
A few insurers may cover the related water damage caused by water backing up, but many do not, as detailed in the limitations. Property owners may be on their own to cover expenses relating not only to the water damage but also to the costly repair of damage to drainage pipes.