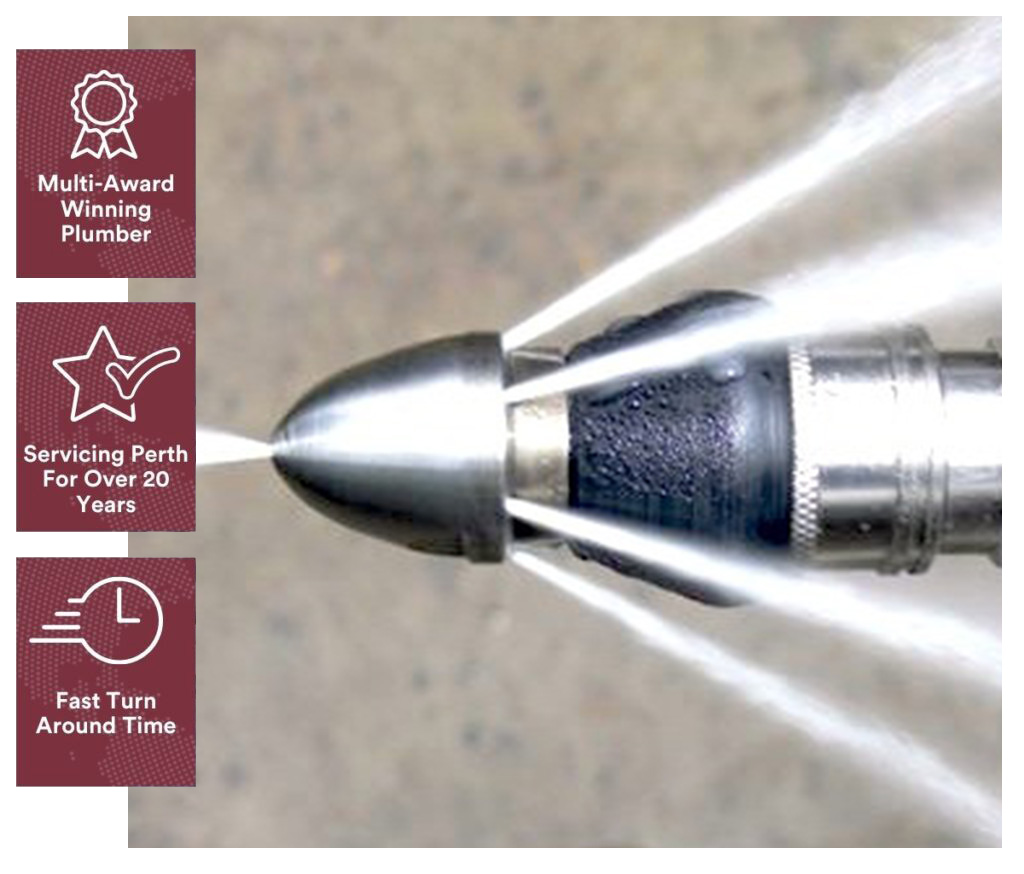 We
jet blast

even the toughest clogs away!
Blocked drains can be a big problem. They can cause severe damage to your home or commercial property and cost you hundreds of dollars in repairs.
There are many different ways your drains could get blocked, but none of them is fun or easy to deal with. You could try unclogging it yourself, but that is often complicated and messy work. A professional
plumber
will have all the right tools and experience needed to fix any drain blockage quickly and easily!
That's why we offer our jet blasting services at Rowson's Plumbing Services! We specialise in clearing out even the most stubborn clogs using high-pressure water jets! Our team has over two decades of experience in residential and commercial plumbing, working with all kinds of plumbing issues, so you know that we will get the job done fast!
The Advantages of Jet Blasting
Why Choose
Rowson's Plumbing Services

For Jet Blasting Blocked Drains
Does your home or commercial property have a blocked drain?
Our friendly team of professionals are on standby 24/7 to help with all your plumbing needs, including unblocking drains.
You won't find another company that offers better rates or faster response times than Rowson's Plumbing Services.
We know how important it is to get your problem fixed as soon as possible, so we work hard every day to ensure our customers are satisfied and happy with our services. That's why we guarantee 100% satisfaction on every job – if you aren't satisfied, neither is our customer service team!
There is no one price for jet blasting services. The cost would vary depending on the type of blockage, the type of drain, the severity of the problem, location, and the type of property. The plumbing company would also have different ways of calculating its service costs. Some would charge per job, per linear meter, or sometimes per time spent on the job. It is best to contact your friendly neighbourhood plumber for a better estimate on the cost of the jet blasting job.
The thing you need to consider before a big purchase like this is the cost. Jet blasting requires around 5000 PSI of pressurised water to clear your blocked drain. Not to mention the variety of fittings and the training to learn the techniques to remove the said blockage.
There are techniques and angles at which a high-pressure jet blaster nozzle should and should not be used. In the hands of an amateur, a simple blockage may result in broken pipes and costly plumbing repairs.
The equipment, effort, and time spent would cost more than ten times as much compared to just calling a licensed plumber with dependable jet blasting services.
If you think buying a jet blaster and clearing your blocked drains is a good investment, how often would your property need drain clearing? The only way to view this type of purchase as an investment is to study to get licensed as a plumber and get paid to clear drains. Otherwise, make the right decision and call Rowson's Plumbing Services to jet blast your blocked drains.
You should call a plumber when you notice the first signs of blockage or plumbing issues. Schedule an inspection and ask for a quotation. Let the expert plumbers decide if the case warrants the use of a jet blaster. But if you're convinced that the only way to clear your blocked shower drains is with jet blasting, then the best time to call a plumber is immediately to get your peace of mind.